Based on the volatility in the markets and in world events due to the COVID-19, and the impact to both our health and financial well being, IP Private Wealth is increasing our information flow to provide our clients with comprehensive information to better understand the impact (as well as potential opportunities) that this represents.
It is in our opinion and experience that critical decisions in life, health and finances are best made based on evidenced based research and in the absence of extreme emotions. To this point, this paper will provide in-depth information on the COVID-19 and the long-term impact to the economy and markets.
COVID-19 – The Backdrop to Current Financial Conditions
The media provides vast quantities of information from various sources that often confuse and illicit a strong emotional response. We at IP Private Wealth had the benefit of attending a Morningstar Research webinar that provided a deep dive of well researched information that is pertinent in our decision making.
The key takeaways from the March 9, 2020 analysis is contained in the following charts:1
To begin the summary of this extensive report, based on the evidence provided is that the COVID-19's hit to 2020 should be significant, but low fatalities will allow for a quick recover. Key take away are:
Expect COVID-19 to resemble a severe but manageable flu
Spread of the virus pushed central bankers and governments to issue significant monetary and fiscal stimulus.
Treatments available soon
How a Pandemic compares with seasonal flu

Demographics of COVID-19 cased by Age and Death Rate, China CDC Report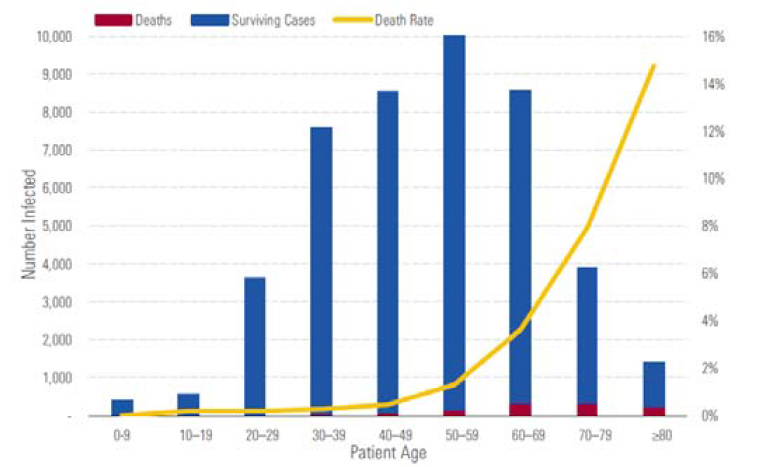 Global and US Death Rates for Seasonal Flu, Pandemic Flu and Coronaviruses including Morningstar COVID-19 Scenarios (in Blue)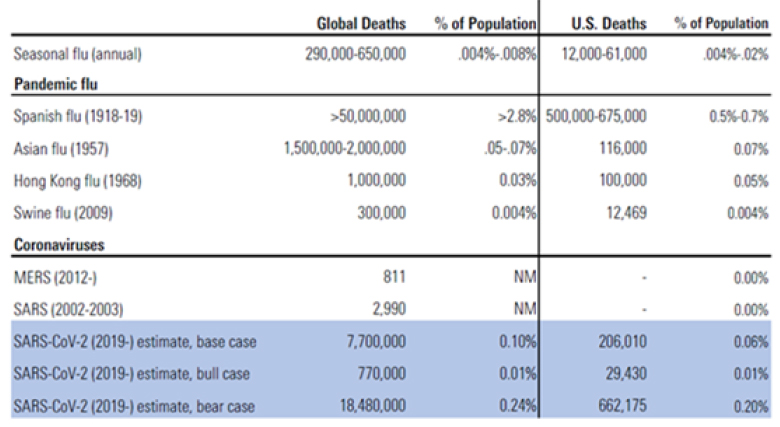 Transmissibility and Fatality for SARS-CoV-2 ("Coronavirus") in Three Morningstar Scenarios with a backdrop of historical viral outbreaks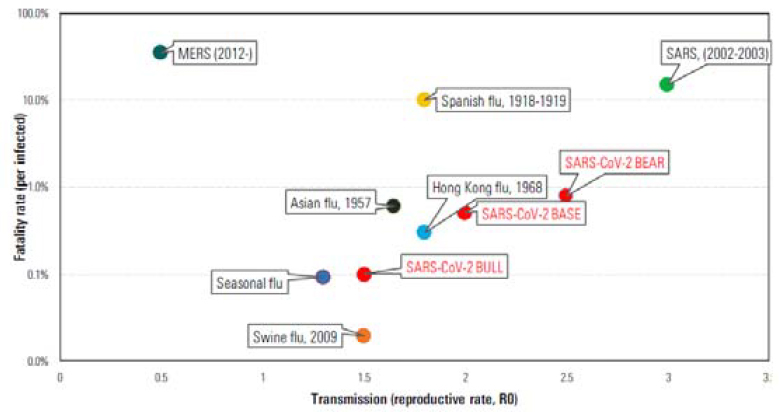 Comparing the Impact of Viral Pandemics on Global GDP: COVID-19 Coronavirus Likely to be a Mild Pandemic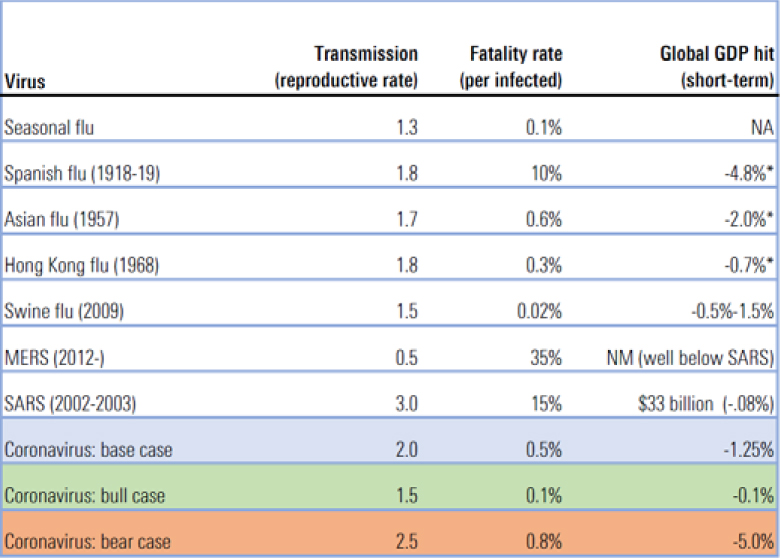 Benefits of Strong Government Responses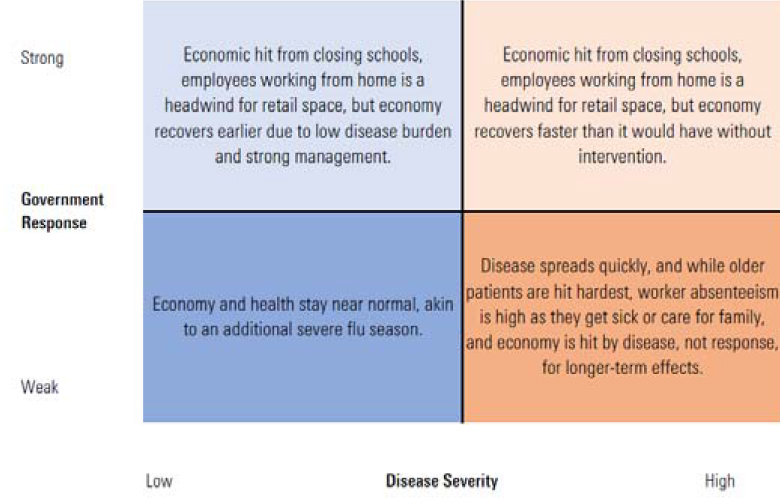 Potential COVID-19 Vaccines (Beyond Moderna's Leading Program)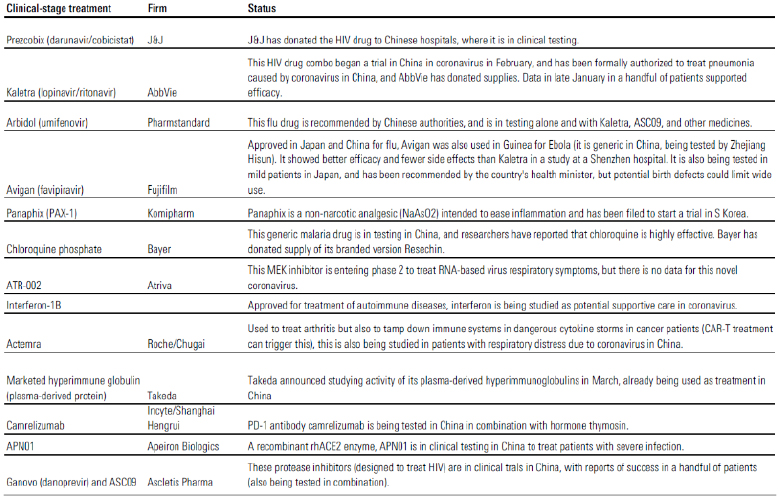 Large Short-Run Negative Impact from COVID-19 will eventually reverse, as GDP returns to trend (illustrative GDP impact timeline based on Morningstar average scenarios)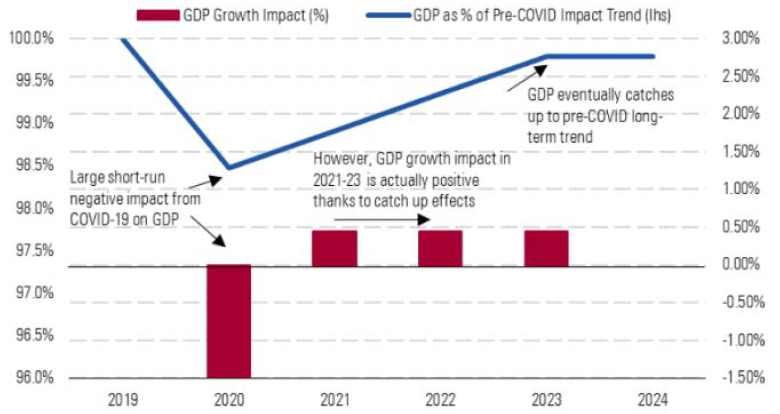 Based on the above factors, the Morningstar research team foresees the following possible scenarios (worst to best):
Morningstar Scenario Analysis: COVID-19 Health and Economic Hit

This research coincides with many institutional and hedge fund money managers based on the information available at this time.
IP Private Wealth Portfolio Observations
The market underwent further price reaction to the COVID-19 and took greater losses. This week some of the most volatile price moves (both down and up) since the 1980's. (as seen in the chart below)
To summarize, here are the year- to-date report comparisons for the week ending March 13th and March 20th:
While the markets have extended losses, we note that our portfolios have taken a significantly lower drawdown to the indices outlined above. At this time our portfolio drawdown is 45-50% less than the markets dependant on your IPS and individual cash flows.
Weekly Report Comparison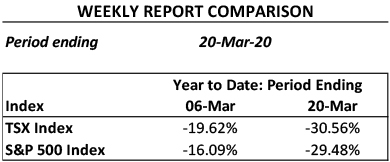 The reasons for this reduced drawdown are:
As indicated in December, IP took more defensive measures and increased cash positions. At this time cash is now 10%+ of your portfolio values.
We have significantly higher dividend yields than markets.
Our stock selection has high quality stocks with excellent fundamentals (balance sheet; earnings, valuation, and payout ratios).
Actions Undertaken
At this time, we feel that the primary concern in the market is in the areas of credit and liquidity. To this point we have reduced exposures to the credit market by selling our short-term high yield bonds and increasing cash weightings at this time.
Our long-term federal bond position has been accretive. At this time credit spreads have significantly widened, and therefore the move to government bonds and cash are proving to be the prudent move.
Cycle of Market Emotions
Future Positioning
We must remember that the stock market is a leading indicator to the economy. There is no question that COVID-19 will have a negative impact on GDP and thus corporate earnings. Our main focus in not on the actual value of the decline, but to the longevity of this action.
Since the market leads, with the tremendous uncertainty it is in our opinion that the market has "overshot" the expectations of reduced earnings and therefore is creating excellent opportunities for us to buy quality stocks at great discounts2. This and the significant monetary and fiscal response will be highly accretive to a market and economic recovery. To this point we believe the biggest risk on the upturn will be rising inflation.
Warren Buffett Stated: "Be Fearful when others are Greedy and Greedy when Others are Fearful".
The chart to the right outlines Behaviour Finance studies and the actual time to buy and sell (buy low; sell high). Markets were rift in "Greed" in late 2019 and thus we took profits. Today we are studying our entry points based on the Fear Gauge, new cases of COVID-19, and fundamental research.
In our various conference calls with institutional and hedge managers, the common observation is that the economic downturn is situational and not systemic and coining this as the "Great Interruption" or the "Great Pause". Demand will be pent up…for example, try to buy a laptop today so that staff can work from home!
We have positioned a buy strategy ready to be deployed. The key is the timing of the buys. Please note that finding the bottom can never be 100% timed; only hindsight offers us that luxury. As the market is a leading and not concurrent indicator, following the economic stats will lead to "missing the boat". The market will have a positive response once there is greater clarity on the successful medical response which will lead to recovery of economic conditions. To this end, we will be nimble when executing our staged purchases with a full rebalance when clarity is available. We will also sell opportunistically any of the stocks we believe may be laggards in the expected recovery (we sold two such stocks mid day today while the markets were positive).
We are increasing cash positions in the Alternative Pool Fund by redeeming of some alternative investments to provide us the cash to deploy towards high quality dividend paying securities for the benefit of your long-term financial objectives. Note that the redemption cycle of theses alternative can take up to 90 days.
Companies of focus will be the one with attractive payout ratios and balance sheets.
Banks such as TD with a current yield of 5.8% and down approximately 30% from its all-time highs in February. Technology companies that are geared towards the future of tele-working such as Cisco, which has a current yield of 4.176% and off 41% from its all-time highs. And Telecoms such as BCE with a current yield of 6.1 and 20% off its all-time highs.
We look forward to any comments/feedback.
1 Morningstar Equity Research: March 9, 2020;
2 Multiple research partners, including Morningstar, maintain this fundamental macro‐economic opinion
IP Investment Counsel Inc. ("IPIC") is a Portfolio Manager ("PM") and Exempt Market Dealer ("EMD") registered in the provinces of Ontario, Quebec, British Columbia and Alberta.    The information contained herein is for general information purposes only and does not constitute an offer or solicitation of managed account services.  This newsletter, prepared by Habib Saikali and Richard Kluska, expresses the opinions of the authors. The opinions set out herein are effective as at the date of publication and the authors do not undertake to notify the reader of subsequent changes.  Certain general or market information contained herein has been obtained from sources believed to be reliable.  However, IP Investment Counsel Inc. cannot guarantee their accuracy. Given the current market environment, information can change minute by minute and therefore influence the views of the authors at any given moment.