We hope everyone is well and staying safe. Given the level of uncertainty and through feedback from our clients, we want to provide ongoing communication including an update on our approach and our observations for the past week.
As you know, the markets have experienced significant volatility since the peak in February of this year. Figure 1 illustrates the price performance of the TSX index from the start of the year to April 2, 2020.
Figure 1: TSX Index January 1, 2020 to April 2, 2020.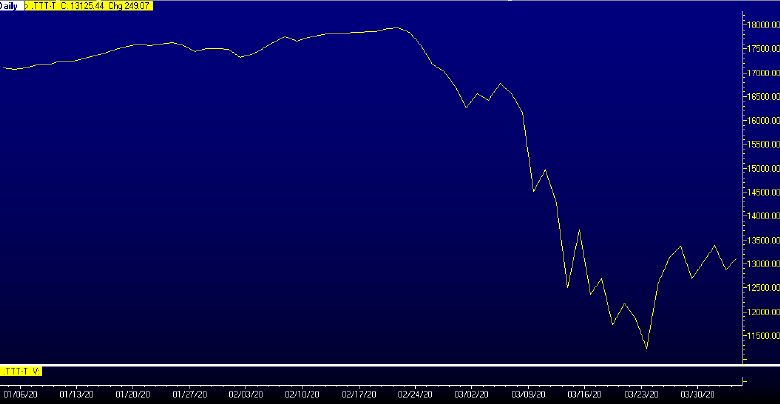 Key observations from the chart above are:
The TSX index is down 23.2% since January 1, 2020.
From the peak of ~ February 20th, to the trough of ~ March 23rd, the loss was 37.8%.
From trough on March 23rd to quarter end of March 31st the market rebounded +19.7%.
Q2 is starting off with more volatility and is expected to continue until the health and economic indicators provide clearer direction for the markets.
Consistent with previous bear markets, most asset classes were impacted during this selloff, providing little or no shelter. The bond market, often considered safe and with low correlation to equities, experienced liquidity problems and corporate credit spreads spiked as the risk of default increased with the global lockdowns. Figure 2 shows the price action of XBB, the iShares Core Canadian Universe Bond Index ETF. The price action and liquidity issues were prevalent in all markets across the globe.
Figure 2: XBB (Bond Index): January 1, 2020 to April 2, 2020.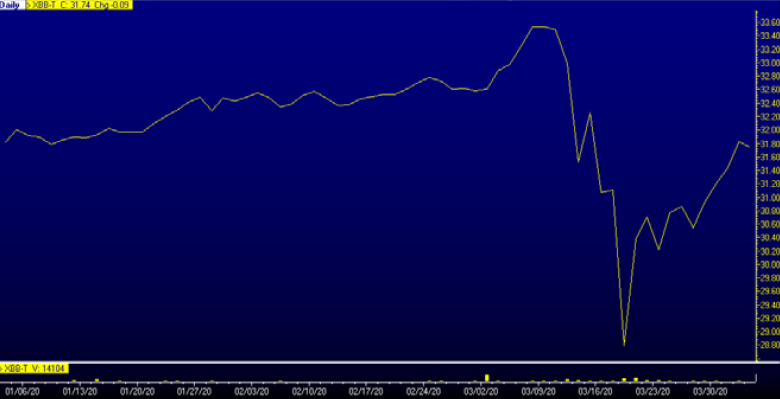 Although not as bad as equities, the Canadian bond market did experience the following results:
From peak (March 9th) to trough (March 18th) the bond index was down 16.9%
As the bond market stabilized the year to date price drop as April 2nd was 0.25%
These price moves have demonstrated the volatility of the markets and for the month of March, there "was no place to hide". It is for this reason, central bankers around the globe stepped in to ensure that the markets did not lock up. They provided confidence and liquidity to ensure a functioning market.
In addition, credit markets are still showing some dislocation with the pricing and wider than normal bid/ask spreads. In fact, high yield bonds have experienced major losses this year.  For instance, the iShares US High Yield Bond Index ETF (XHY) has lost 16.8% as of April 2nd.
The increased correlation of these asset classes demonstrated, just as in 2008, that the key concern of this market is one of liquidity and not necessarily valuations. If a company (public or private) has a strong balance sheet, with historically higher profit margins and return on equity it should survive the current pandemic. Furthermore, once the economy recovers these companies will thrive.
The IP portfolios are constructed with a focus on prudent diversification. As a reminder, since December we started reducing our exposure to equities and we are now underweight equities and overweight cash. To this point, our portfolios for this quarter:
Have experienced lower drawdowns than the markets
Continue to generate income above the current risk-free rate
We continue to reduce our exposure to credit in our fixed income strategies and maintain our exposure to long term government bonds for additional safety.
We continue to hold high quality dividend paying equities with a focus on their balance sheets, cash flow situation for continued liquidity, and payout ratios for safety of dividend payments.
While much of the "heavy lifting" has been done in our portfolios to date, the IP Investment Committee is working on the next phase of our active management being: What to Buy and When to Buy?
Based on our research, indications are that the market volatility is here for a while and stock markets may re-test the lows of March 23rd as illustrated in Figure 1 above. While we have developed our overall strategies, total clarity on the following two points are not evident.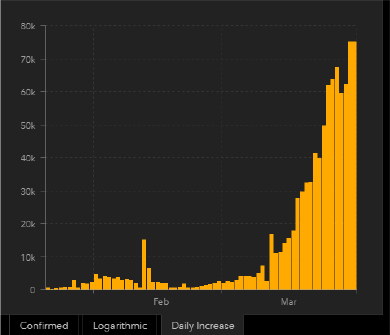 Item #1: New Case Growth % Needs to Stabilize
As outlined in our earlier communications, the state of the world's medical and financial health is highly integrated. For the markets and ultimately the economy to move forward, the announcement of new cases must be stabilized.
Figure 3 outlines new COVID-19 cases in the US, the new "epicenter" for the pandemic. The case counts are still rising and there's uncertainty as to when this will taper off. In discussions with front line medical professionals, they are suggesting that here in Canada we should have greater clarity over the next 1-2 weeks.
Item #2: Future Earnings & Economic Guidance
In the past couple of weeks, we have seen companies dropping their earnings guidance for 2020 given they cannot foresee what the next few quarters will look like. Also, some of the more recent economic data may unnerve market participants and cause further pullbacks.
Market pullbacks should provide a time for opportunistic buying on a disciplined basis. This next wave of earnings results in the coming weeks will dictate the markets next move.
We are in search of seven new stocks, five in the US and two in Canada, to get us back to our full weighting.
To date we have short listed two strong stocks in the sectors we believe will be strong future performance generators. These stocks are:
Microsoft (IT services and Cloud)
Stryker (Medical)
We have five other stocks on the "short list" with good attributes and strong balance sheets. However, this list is fluid and may be modified as greater clarity on earnings and guidance is provided.
As always, the IP Private Wealth team thanks you for providing us the opportunity of being stewards of your hard-earned wealth.
IP Investment Counsel Inc. ("IPIC") is a Portfolio Manager ("PM") and Exempt Market Dealer ("EMD") registered in the provinces of Ontario, Quebec, British Columbia and Alberta.    The information contained herein is for general information purposes only and does not constitute an offer or solicitation of managed account services.  This newsletter, prepared by Habib Saikali and Richard Kluska, expresses the opinions of the authors. The opinions set out herein are effective as at the date of publication and the authors do not undertake to notify the reader of subsequent changes.  Certain general or market information contained herein has been obtained from sources believed to be reliable.  However, IP Investment Counsel Inc. cannot guarantee their accuracy. Given the current market environment, information can change minute by minute and therefore influence the views of the authors at any given moment.