After a rough start for equity markets in early April, this week has been an unexpected surprise. As at 10:30am April 9th, the S&P 500 is up 11.3% for the week while the TSX is up 8.2%. Economic data, in particular the unemployment numbers are at staggering levels, yet investors drove the markets higher. This morning the Federal Reserve provided even more liquidity and support, to the tune of $2.3 trillion, which sparked the markets to jump. High yield bonds and poor-quality companies with weak balance sheets seemed to be the winners this week.
While stocks enjoyed a positive move up, upon careful review of the S&P500 constituents, the increase in the index was generated primarily from stocks that experienced massive losses year to date, such as tourism related companies, retailers, oil/energy companies and airlines. The table below illustrates the top 25 performing stocks month to date to April 9th.
SP500 Composite Holdings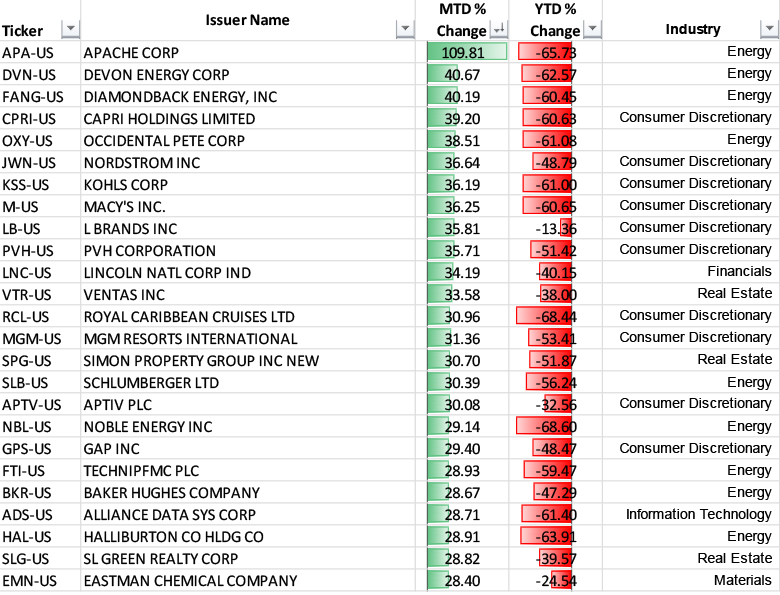 It is our opinion that some of these companies are not stocks we would purchase due to the fact that:
Their balance sheets are highly leveraged and do not offer great margins of safety in the current economic environment.
Their ability to generate earnings and maintain a dividend policy is at risk given the dependency on consumers. Consumer behavior and priorities have changed in this COVID-19 world.
While these types of securities will have short term buying opportunities, we believe these purchases are speculative in nature as investors search for the bottom.
Corporate Earnings
Our selection process is governed by fundamentals and primarily on the ability for companies to grow earnings. This has proven to be a key attribute towards successful long-term investing.
It is important to note the following observations:
The average earnings estimate revisions for the S&P500 are down 19.3% for the coming quarter. For the TSX the average earnings estimate revisions are down 24.4%. It's our opinion that this rally, although welcomed, is driven by sentiment and stimulus support.
The scale of negative earnings revisions are sector and company specific. For example, the Energy sector has significant negative earnings estimate revisions. Other companies have experienced lower earnings estimate revisions. However, that may change depending on the duration of the lock down.
Many companies have suspended earnings guidance for the rest of 2020 and therefore makes it difficult for analysts to assess earnings for the rest of this year.
The key to earnings recovery is the duration of this economic shut down due to COVID-19. The shorter the "interruption" to the economy, the sooner earnings will recover for quality companies.
The majority of earnings announcements for Q1-2020 will be in the next few weeks. This will be key to see if this rally is sustainable or if there is another pull back, in particular the more vulnerable companies.
Health of the Bond Market
As discussed earlier, the bond market is an excellent barometer of the health of corporations and the equity markets. COVID-19 is an issue of liquidity and the ability for corporations to finance growth or survive the pandemic. As illustrated in the following chart, high yield credit spreads over government treasuries are at record highs. In other words, the bond market is still factoring a high probability of defaults of certain corporations. This is why a healthy corporate balance sheet is one of our key attributes in security selection. The bond market is judging liquidity and credit quality suggesting that defaults are highly probable. As mentioned in prior commentaries, we have reduced our exposure to credit where we felt prudent.
Credit Spread Curves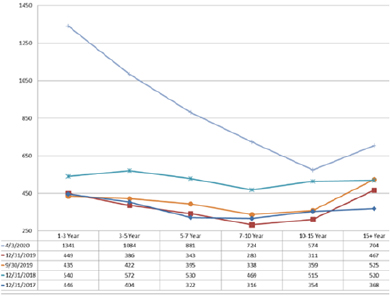 Overview of COVID-19 conditions
The following charts illustrate some improvements in new COVID-19 cases.
Countries that have "flattened the curve":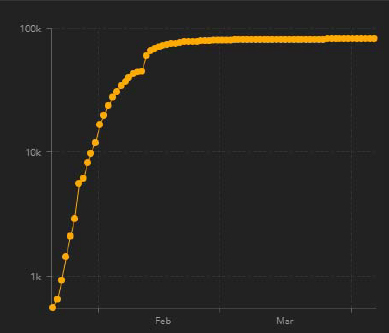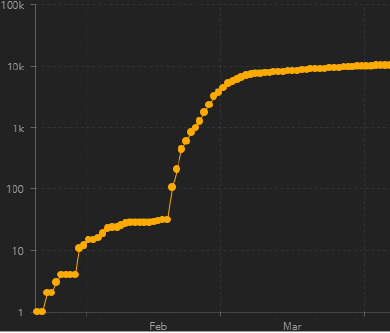 Countries where the curve is improving: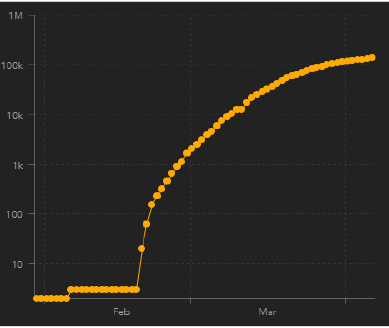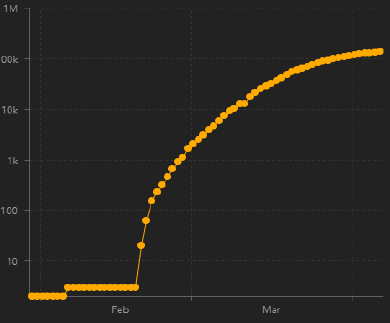 Countries that appear to show signs of improvement: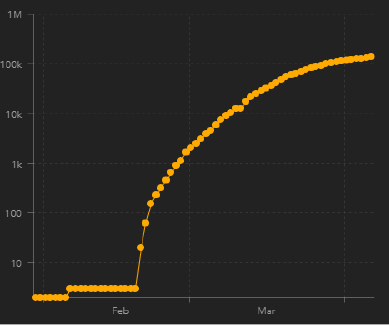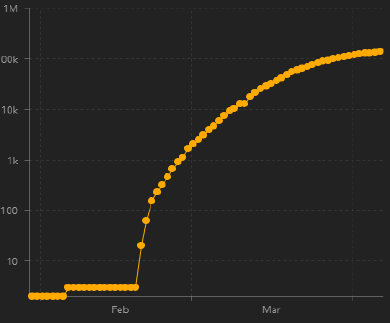 China has lifted the lock down on Wuhan and case counts are dropping in Italy. North America remains an ongoing struggle, but are working hard to flatten the curve.
Other Thoughts
This week the Judeo-Christian calendars are observing Passover and Easter. These religious observations demonstrate that difficult times for humanity have been witnessed over the millennia with the comment "this too shall pass".
Over the past few weeks, we have been writing to you regarding our investment strategies and how to preserve capital, provide income and offer growth…when prudent. A key to overall wealth management is to integrate investment strategies to your personal and corporate goals.
Our belief is that a "new norm" will rise from this pandemic and perhaps a world-wide return to core values and principles. When we return to full operations, we believe it is critical to review your financial plan, Investment Policy Statement, and your goals to ensure that you are on track to fulfill your objectives.
Once again, we thank you for allowing us to be stewards of your wealth. We look forward to being of continuing service to you and your family.
IP Investment Counsel Inc. ("IPIC") is a Portfolio Manager ("PM") and Exempt Market Dealer ("EMD") registered in the provinces of Ontario, Quebec, British Columbia and Alberta.    The information contained herein is for general information purposes only and does not constitute an offer or solicitation of managed account services.  This newsletter, prepared by Habib Saikali and Richard Kluska, expresses the opinions of the authors. The opinions set out herein are effective as at the date of publication and the authors do not undertake to notify the reader of subsequent changes.  Certain general or market information contained herein has been obtained from sources believed to be reliable.  However, IP Investment Counsel Inc. cannot guarantee their accuracy. Given the current market environment, information can change minute by minute and therefore influence the views of the authors at any given moment.