It's been approximately 10 weeks since the peak of the markets back on February 19th 2020.  During this time, we have experienced extreme market volatility both on the downside to the lows of March 23rd followed by a snap recovery purely supported by central bank and government intervention. The exceptions were the MEGA cap stocks such as Amazon, Facebook, Google and Microsoft, which have reported strong Q1 results.
The media comments daily on the "new normal" for the economy and markets with an anticipated shift in how we will live, work, and invest in the post pandemic world.  When speaking to many clients, associates, and friends, we all are looking forward to returning to some level of normalcy.  It's exhausting to be living like Bill Murray in the 1993 movie "Groundhog Day".
Since the lows of March, the markets were driven up by the following:
Central bank intervention and government stimulus that provided a back stop to the markets and stimulus for the economy. This is evident with the trillions of dollars of liquidity injected to ensure the markets remain functional and the necessary government aid in wage and loan subsidies to employees and businesses.
The expectation that government and central bankers will provide an endless pledge and ongoing support well beyond normal interventions to backstop all markets and asset classes. (Note: For 2020, Canada's budget deficit is projected to exceed $250 Billion and the US is projected to exceed $3.8 Trillion.)
The expectation that the Federal Reserve ('Fed') will potentially move the interest rate policy to negative rates or maintain rates at near zero for extended period of time.
The expectation that there will be a quick re-opening of the economy and a rapid deployment of a medical treatment for COVID-19 with a vaccine to follow sooner than later.
We believe that the central banks and governments have exercised good judgement by providing the necessary liquidity to the markets and support for their citizens and some businesses to avoid an economic disaster during this crisis and effort to "flatten the curve".
Today, the media is calling this economic situation the "new normal" and the "old" investment rules do not apply, thanks to central bank intervention.  This comment brings back vivid memories of the 'Tech Bubble' in 1999/2000.
As fundamental managers we rely on data and fact-based evidence to invest your money while keeping in mind three key principles:
Capital preservation,
Income and,
Prudent growth.
It is evident the massive injection of capital stimulus from the Fed has led to a V-shape market recovery in April, however, this market recovery has the following fundamental concerns:
Macro Fundamentals
As of the end of this week, 30 million Americans are now unemployed after six weeks of lockdown. Given that consumer spending accounts for 70% of US Gross Domestic Product ('GDP'), this is troubling for the economy and corporate
profits.• US Q1 GDP growth was -4.8% which was worse than expected, with the majority of the impact happening in March when most states went on lockdown.
Micro Fundamentals
The following chart shows the extent of earnings revisions associated with the COVID-19 crisis.
Source: Morningstar CPMS
As you can see, earnings expectations for the S&P 500 have declined to 2018 levels. However, in 2018 the US did not have 30 million people looking for jobs.  Further, earnings expectations may be revised lower if the re-opening of economies hits a snag.
The chart below illustrates the Forward P/E ratio, what investors are paying for each future dollar of expected earnings, for the S&P 500 index of companies.
Source: Morningstar CPMS
The Forward P/E ratio for the S&P 500 is over 22x compared to 18x in 2019.  As mentioned above, the backdrop for earnings in 2019 did not have declining GDP and 30 million unemployed Americans.
Based on record low interest rates, theoretically the increase in P/E may be justified.  However, these charts and the current economic challenges suggest that a prudent fundamental approach towards investing is mandatory.  While central bank intervention and accommodative monetary policy has benefitted stock markets over the past several years, it may be short lived given the fragility of the consumer and corporate earnings in the next few quarters.
The Flattening of the Curve
There is great, deserved optimism of the world's ability to flatten the curve. Recent statistics in Singapore and Germany indicate that the re-opening of the economy requires careful management so that a second wave of infection can be managed or controlled.
Therefore, a rapid re-opening strategy will need to be replaced by a staged and systematic one with significant levels of testing and tracking of the virus.  This notion reinforces our opinion that certain sectors take longer to recover regardless of the recent price appreciation in shares of retailers, cruise lines and airlines.  We also expect more bankruptcies to be announced in the oil and retail sectors in this environment.
The need to buy quality stocks focused on key fundamental attributes continues to be vital for long term investment success.
Market Timing – Did we lose out on the opportunity?
The April stock market rally lead to the question of missed opportunity and market timing.  To better understand our position, we need to review the S&P 500 and its performance year to date.
While the S&P 500 experienced a sharp rally due to central bank stimulus, please note that it is still far from the February highs.
Source: Thomson One, YTD to April 24, 2020
In addition, we observed that the breadth of the market recovery was focused on the FAANG stocks (Facebook, Amazon, Apple, Netflix, Google), primarily Amazon, and sectors such as energy, cruise lines, airlines and retailers.  Stocks in these sectors rose due to speculation they will survive due to government subsidies and loan programs.
The following table outlines market returns for the periods ending March 31st and April 24th, as well as a number of stocks in key sectors that we are watching.
Stock and Market Positioning – Price Change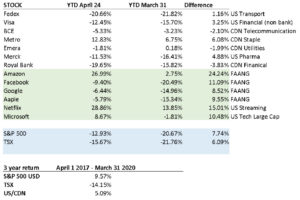 What we are illustrating is defensive and/or quality stocks in sectors such as health care, telecommunication and financials or stocks that are beneficiaries of online shopping (e.g. FedEx and Visa), have not all benefited from the recent rally.  Once again stocks such as Amazon and stocks in hard hit sectors have been rallying in the month of April.
We believe the opportunity for allocating more to stocks in our portfolios is still ahead of us as earnings season is in full swing.  We are concerned with the fact that approximately 80% of companies that have announced Q1 results have pulled their guidance for 2020 due to economic uncertainty.  Further, April 30th market actions, coupled with the pre-market pricing for May 1st indicates that the market is shifting focus from central bank stimulus and the hope for a quick re-open to the macro and micro economic indicators outlined above (e.g. Amazon down pre market ~5% based on earnings miss announced after April 30th market close).
With 30 million Americans out of work and many more globally we are reluctant to deploy more capital now.  As mentioned earlier, we are not comfortable purchasing stocks when the market Forward P/E ratio is hitting new highs with the current economic backdrop. In short, we believe patience, being diligent and prudent, and analysing the fundamental and economic data will allow us to find more attractive opportunities to buy in a staged and systematic manner.
IP Investment Counsel Inc. ("IPIC") is a Portfolio Manager ("PM") and Exempt Market Dealer ("EMD") registered in the provinces of Ontario, Quebec, British Columbia and Alberta.    The information contained herein is for general information purposes only and does not constitute an offer or solicitation of managed account services.  This newsletter, prepared by Habib Saikali and Richard Kluska, expresses the opinions of the authors. The opinions set out herein are effective as at the date of publication and the authors do not undertake to notify the reader of subsequent changes.  Certain general or market information contained herein has been obtained from sources believed to be reliable.  However, IP Investment Counsel Inc. cannot guarantee their accuracy. Given the current market environment, information can change minute by minute and therefore influence the views of the authors at any given moment.