Our integrated
wealth management
process begins
with a coffee.
We can't properly build a financial plan without getting to know you first. Strategic and effective financial plans aren't created with pre-set packages, boiler plate strategies or generic products. They are built on a foundation of understanding. We listen, we analyze, we execute, we monitor and we report to YOU.
IP 360°TM
Our Integrated Planning Solution
Our office is rooted in the ability to assist clients through a Family Office approach. To that end we have formalized what we now call the IP 360°TM Approach. Simply put, we take a complete "360°" look at all that encompasses your personal and corporate financial matters.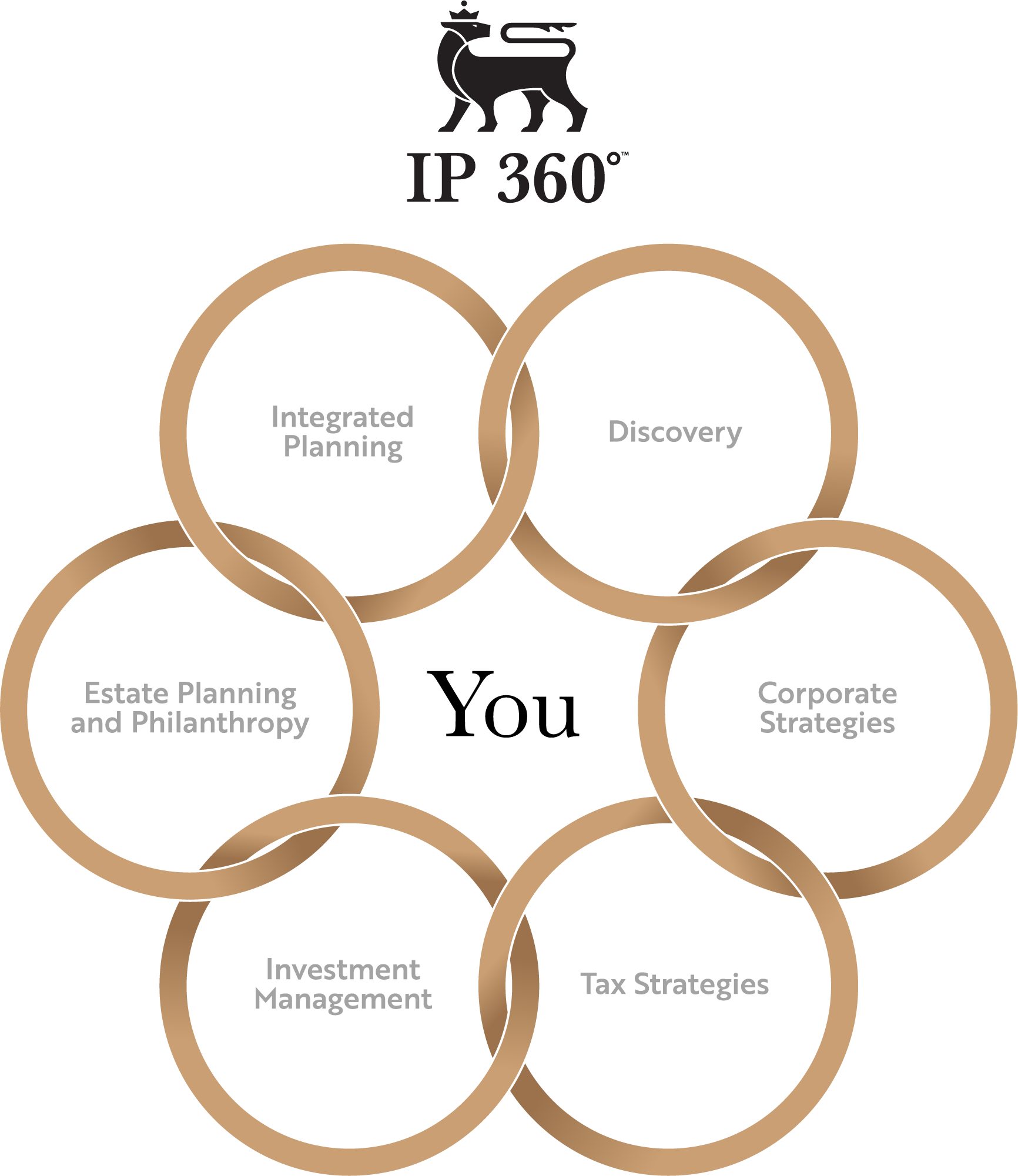 Our team will work to accurately assess your needs and goals. We'll deliver a comprehensive, easy-to-follow financial plan that works towards your specific needs.
Discovery: we will meet to discuss your personal and corporate aspirations to determine the financial requirements to achieve your goals.
Corporate Strategies: We will examine all aspects of your corporate affairs including exit strategies, corporate structures, and legal agreements.
Tax Strategies: As a business owner the implementation of an Integrated Tax Plan among your various entities (corporate, personal, trust) is critical.  We will discuss all aspects and work with your accountant to execute the plan.
Investment Management: We apply an institutional approach to investing with a prudent and highly disciplined process to stock selection, asset allocation, and risk management.
Estate  Planning and Philanthropy: Through comprehensive estate planning/will planning and risk management process we will develop an estate plan to enrich your beneficiaries (family/charities) in the most tax effective manner.
Integrated Planning puts is all together. Addressing each segment of IP 360°TM approach provides a financial life plan to assure you that you have the resources needed to live the lifestyle you want – isn't that the purpose of your Wealth Advisor.
"After my husband passed, the IP team worked closely with me and my lawyer to develop a financial plan that addressed both my personal cash flow needs as well as my philanthropic goals. During this difficult time they gave me peace of mind and a solid plan of how to move forward with my life and my goals."
— J.S.