Your wealth. Your goals.
Our Expertise.
The biggest challenge for affluent families is getting clear, coordinated advice from all their advisors. A tailored IP360°™ plan solves this problem.
IP 360°TM
Financial planning, investment, and coordination.
The IP Private Wealth team works across disciplines to coordinate your advisors, ensuring everyone is focused on the same strategy for wealth and financial success. It's the best choice for individuals who are seeking clear goals and strategies that will get everyone pulling in the same direction.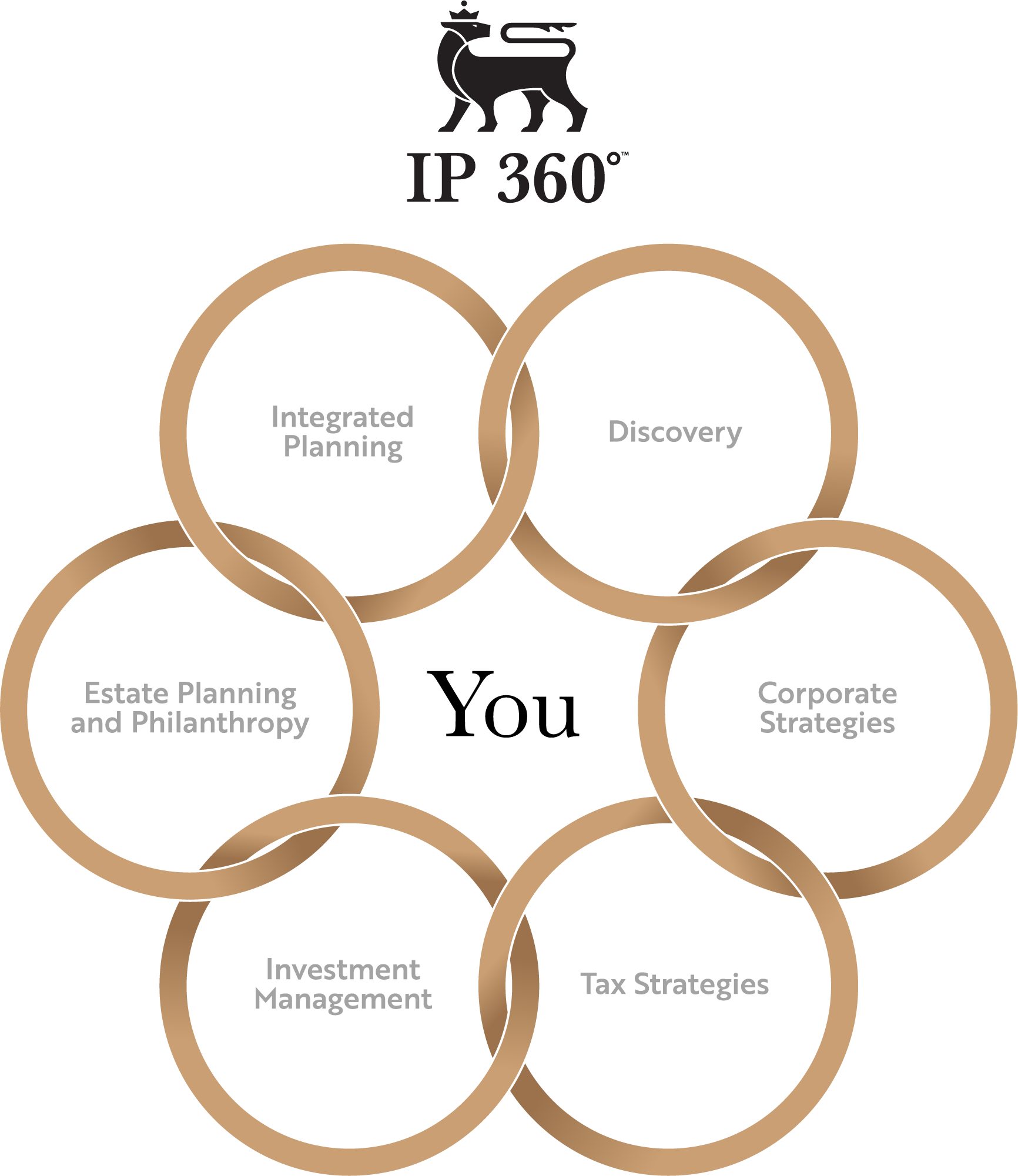 Our team works with you, your family, and your advisors to assess your needs and goals. We'll deliver a comprehensive, coordinated financial plan that works towards your specific needs–and we'll make sure you understand every aspect.
Discovery: We meet with you to discuss your personal and corporate aspirations to determine your goals and the steps you need to achieve them.
Corporate Strategies: We examine all aspects of your corporate affairs including exit strategies, corporate structures, and legal agreements; we ensure you're on track for your future.
Tax Strategies: We review tax strategies with your advisors and ours, and ensure that you're navigating the tax system in the most effective way possible.  We work with your accountant to execute the plan.
Investment Management: We apply an institutional approach to investing with a prudent and highly disciplined process to stock selection, asset allocation, and risk management.
Estate Planning and Philanthropy: Through comprehensive estate planning, will planning, and risk management process, we will develop an estate plan to enrich your beneficiaries in the most tax-effective manner.
Integrated Planning:  This is where our team puts it all together. Addressing each segment of IP 360°TM process, we also review your original goals and challenges, taking into account financial and non-financial considerations that matter to you.
Your financial plan must be built to your specific needs and goals. It must take into account factors outside of numbers and figures; it must fit your lifestyle and your unique challenges. At IP Private Wealth, we believe plans should be built so that they're manageable, sustainable, and easy to understand. This way, you and all your advisors can stay on track.
Is a Family Office right for us?
Family offices have been around for generations: a central, coordinated point of communication for your all your advisors and investments. For hundreds of years, affluent families have had family offices to manage their wealth; IP Private Wealth makes this concept accessible to affluent families across Canada.
We serve select clients who meet the following criteria:
You wish to pursue an investment strategy that optimizes your financial goals.
You wish to access business advisors who understand real world strategies.
You are planning for you and your family's future.
You are seeking a coordinated approach to wealth management.
You have investable assets of $1M or greater.
You may be proceeding with a business sale, procurement, or succession plan.
You're looking for ways to reduce the impacts of taxation, insurable risk, and other drains on your financial growth.
If this description fits you, IP Private Wealth™ may be the team you've been looking for.